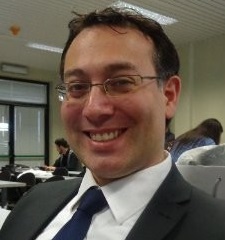 Fabrizio Balducci
Assistant Professor - RTDA
PhD in Information and Communication Technologies (ICT)
phone: +39 080 544 2239
email: fabrizio.balducci@uniba.it

room: (5th floor)
office hours: Tuesday 14.00-15.00
Fabrizio Balducci

---
Research Interests:
Human-Computer Interaction, Mobile Computing, IoT, Computer Vision, Pattern Recognition, Games user research, Gamification

---
Upcoming events:
Curriculum
Fabrizio Balducci is Assistant Professor (RTDA, SSD INF/01) at the Computer Science Department of the University of Bari.
He received the Master degree with full marks and honours in Computer Science at University of Bari. In 2014 he moved to the University of Modena and Reggio Emilia (Computer Engineering Department, AImagelab research laboratory) where in 2018 he achieved a PhD (with scholarship) in Information and Communication Technologies (ICT) on the subject Augmented Reality and Multimedia. From 2018 to 2020 he has been research fellow (post-doc) at the Computer Science Department of the University of Bari.
Fabrizio Balducci is regularly in the TPC of conferences in the area of Interactive Entertainment and Human-Computer Interaction, including the ACM CHIPlay as Associate Chair. He serves as reviewer for top Conferences like IEEE VIS and IFIP INTERACT and for International Journals such as IEEE Access, Springer Multimedia Tools and Applications, MDPI Sensors and MDPI Journal of Imaging as Topic Editor.
He is, or has been, member of CINI (Consorzio Interuniversitario Nazionale per l'Informatica) – 'Smart Cities and Communities' national group, of IEEE Consumer Technology Society (CTSoc) - Application–Specific CE for Smart Cities and of CVPL (Italian Association for Research in Computer Vision, Pattern Recognition and Machine Learning, affiliated to IAPR – International Association for Pattern Recognition).
Research interests include Human-Computer Interaction, Mobile Computing, IoT, Computer Vision and Pattern Recognition, Games user research and Gamification.
He speaks Italian and English.
Academic Service
Associate Chair
Program Committees
Journal Reviewer
Peer Reviewer
Projects
Some projects he is, or was involved:
National/Regional projects
REFIN (Research for Innovation): Gestione di oggetti intelligenti per migliorare le esperienze di visita di siti di interesse culturale – POR Puglia FESR FSE 2014-2020.
PRIN: HAND - Handwriting Analysis against Neuro–muscular Disease, CUP:H96J16000820001. University of Bari, 2018.
Convenzione tra Regione Puglia (Assessorato all'Ambiente), ARPA Puglia, Università degli Studi di Bari (Centro METEA), Università degli Studi di Lecce (Dipartimento di Ingegneria dell'Innovazione, Dipartimento di Fisica), CNR-ISAC a valere sulle linee 6a e 7a del Programma Triennale per la Tutela dell'Ambiente della Regione Puglia 2005-2007.
Teaching at University of Bari
2021-2022 - Sviluppo di Mobile Software (Software Development for Mobile Devices), Informatica e Tecniche per la Produzione del Software (Computer Science and Software Production Technologies Bachelor Degree)
2020-2021 - Sviluppo di Mobile Software (Software Development for Mobile Devices), Informatica e Tecniche per la Produzione del Software (Computer Science and Software Production Technologies Bachelor Degree)